Unwanted furniture
Antique furniture prices plunge in glut of unwanted items
July 13, 2023 – 11:35 am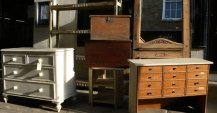 The market for that 19th-century desk you inherited is about as lively as the guy who made it.
Simply put, the market for most antique furniture is moribund and won't rebound anytime soon, antique appraisers said.
The trend has implications for southwest Ohio, which is home to scores of antique furniture collectors and dozens of shops that sell antique furniture and other old items.
Of course, there are exceptions to the trend. Rare pieces and those with exceptional provenance or high quality can garner higher prices. Fads also can temporarily drive up prices for some items, appraisers said.
What's more, interest in certain types of vintage furniture is rising. Sales of so-called mid-century modern furniture from the 1950s and 60s are especially strong, market watchers say.
Experts generally define antiques as items of value that are at least 100 years old and less than 50 percent restored. They often cite the 1930 Smoot-Hawley Tariff Act, which set the 100-year benchmark for antiques in the United States and also established 1830 as the approximate beginning of mass production in the U.S.
For decades, people collected antique chairs, tables, desks, dressers and cabinets as a hobby or as an investment. But the market today for antiques is flooded with unwanted items as baby boomers and their parents downsize and younger people shun these one-time treasures. As a result, prices have plunged, appraisers said.
For example, an authentic antique chest of drawers in good condition with nice inlays and brass hardware would have sold for about $2, 500 in 1988. Today, that same item would sell for about $650, or 74 percent less, said Mark C. Grove, an accredited antiques appraiser and blogger based in Virginia.
Prices will continue to fall, Grove said.
"We're probably within 10 years of the bottom, " Grove said. "This is going to last another 30 years and may never rebound. There is no precedent for this."
Wayne Jordan, an auctioneer, appraiser and antiques blogger also based in Virginia, concurred.
"The days of the big, old furniture pieces are gone, " Jordan said. "The perception of the younger generation is that antiques are dusty, old, smelly, heavy, dysfunctional types of furniture. That's why many dealers are not doing well now."
Hire a Junk Removal Specialist


Custom Services (Junk Pros of NC, LLC)




Tell us about your project
Get free estimates delivered to your inbox
Book your service pro directly on Amazon
Backed by our Happiness Guarantee
Bagster 3CUYD Dumpster in a Bag


Home Improvement (Waste Management)




8 L x 4 W x 2.5 H
Dumpster In A Bag
Holds Up To 3,300 LB Of Debris Or Waste
3 CUYD Capacity
100% Virgin Polypropylene
On-demand debris or waste removal solution that is cost effective and convenient
3-cubic-yard capacity (8 feet by 4 feet by 2 feet 6 inches)
Holds up to 3,300 pounds
Collection service available in some areas
Fee varies by market and is paid to Waste Management at time of collection
Mattress Removal - Full with Box Spring


Installation Services ()




Removing your mattress from your home
Hauling away your mattress
Optional box spring removal

Freezer or Refrigerator Removal - 12-30 cu. ft.


Installation Services ()




Removal of fridge or freezer from home
Appliance will be donated or recycled when possible

TV Disposal - Rounded Back - 43" or Larger


Installation Services ()




Hauling away one TV from home
TV will be recycled when possible
Related posts: